Nadu Plant Hanger Set
Regular price
$0.00 USD
Sale price
$62.99 USD
Unit price
per
Sale
Sold out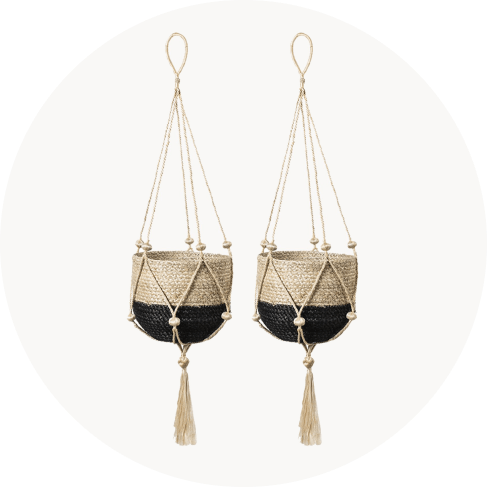 Charm it up with the power of two
Add luxe feel and flair to any room with our Nadu Plant Hanger Set. Get two of our popular knot-and-tassel hanger accessories for displaying your plants and flowers today.
A versatile decorative piece
Hang it any way
Providing 37" of length, this netted wonder allows you to hang up your plant anywhere, with adjustability.
Luxe beach feels
Our bucket-like design is made from braided jute for durability and textured look and feel. Bask in its island-inspired, tropical flair for that away-from-home feel while being right at home (or work).
Spruce up your place
From backyard to bedroom, add a knitted touch with a hanging tassel for a fancy look. Fit in your favorite hanging planters with ease.
Behold the power: jute
No wood or plastic here. Our net is made from jute, a soft, shiny fiber from the jute plant that is native to South Asia.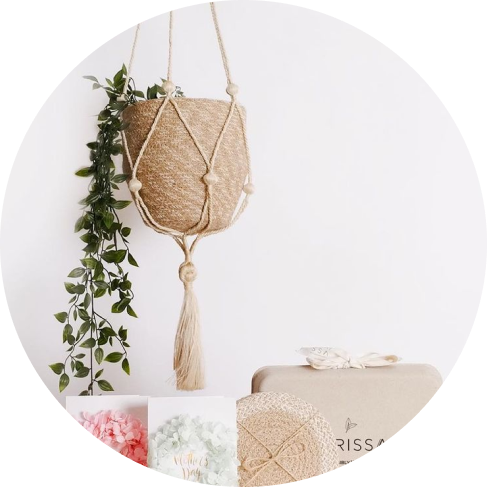 The gift of style
New home or apartment owners will love the convenience and function of these two netted hangers.
Go-green and good
Our locally-sourced jute and crafting process doesn't leave an eco footprint, for style that's responsible and chic.
Inspired by heritage (and responsibly made)
Each Korissa creation is environmentally- and socially-responsible, with materials that are locally-sourced and crafted by artisans who are paid fairly in safe creative communities. Each item brings cultural flair from its region of origin into your home or office.
About KORISSA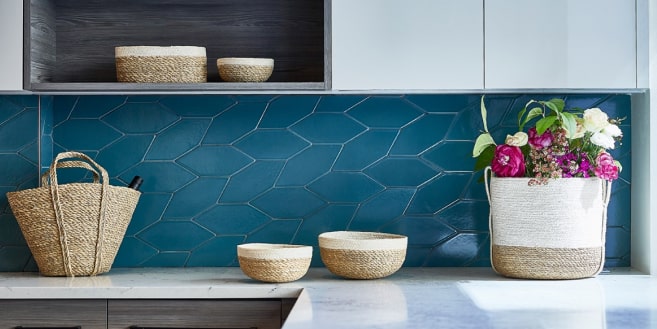 Nora and Angela, two designer moms from New York City, created Korissa to inspire consumers to shop consciously. They wanted to provide high-quality products that are socially and environmentally responsible. Purchasing any of the unique amazing handcrafted products supports and benefits artisans in low-income communities. Fair wages ensure that education and health care are available.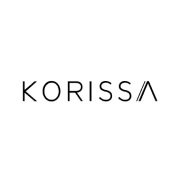 Fit great for my succulents…

Made very well. Very pleased.

Pretty, well made plant holders.

Great quality great price very durable

Exactly what I was looking for !

I love these little hangers. They are perfect for my succulents.

I just hung it up yesterday and I love the look; very sturdy

Very good quality nice looking for my plants.

Had to return these. They were just to small for my plant

Beautiful and sturdy. Will buy again!

These are well made, and very pretty. Great sizing and length.

Really like the hangers. My plants look great in them and they don't hang too long

When these arrived they looked way cheaper than in the photo. The string that is used seemed a little flimsy.

They're for small plants but they're adorable

Looks elegant and shaggy. I love it

Very nicely made! Arrived quickly and were exactly as advertised.

I love everything about these hangers and plan on ordering more!!

Loved these, nice quality good value and super cute! Would recommend

Kinda shorter than expected, but did the job!

I'm really impressed by the value for the price. They are very well crafted. They look very cool and I think they will last a long time.

I loved the look and the height it was a perfect fit in my Bay window. It completed the look I was after.

Got this to hang my plant in my studio, I've been looking for some of these. Very beautiful and arrived undamaged.

it's hard to find these things in stores anymore. I like the look. I like it comes with two. Does what it should. No complaints.

Good for trailing plants that don't go up at all.

The product is superior than the other ones I've tried before, easy to work with and very elegant looking..!

Decent for potted plants but not for very heavy plants! It looks nice and does its job well.

Really thought it would have been a little more bigger, but the product itself are really cute. Would buy again!

I love these. They are so cute and exactly as described. I love that it came as a set of two as well.

Pretty than pictured and they are thick and sturdy. Both are the same length and have pretty beads on them.

Super satisfied with the hangers. They look like the picture. And the hooks are great. They hold a lot of weight.

Easy to use and assemble. Holds my medium sized potted plants although ill likely be switching to something more decorative for these cuz i want them to match.

These are so great. Nice aesthetic and actually useful. Smaller than I expected BUT I don't even mind bc they really work out well and great quality for the price.

Purchased for my RV. Love the size, craftsmanship and especially the value! Great job, guys!!

Very nice macrame plant hangers. Thought about making my own but at this price, couldn't pass it up.

At first I thought it was a weird fit but now I like it. I have high ceilings in this area and this is perfect in place of a regular plant hanger

Super cute if you are looking for a boho look to your home decor. I hung them in my living room next to my other plants and they look fabulous there! Definitely recommended for any room!

The size looks exactly how I pictured it. The colors are also great, it makes for great decor to your home which is helping my fill a blank wall! This is definitely something I'm happy I have!!

I needed something on each side of this picture because it is a big wall, so I ordered these. I love them so much! They fill the space and match my decor perfectly! They're also great quality for the price. Very lightweight, which is what I needed for my command hooks. Would absolutely recommend!
Share